How to Select Chess Lessons and Get the Most Out of Them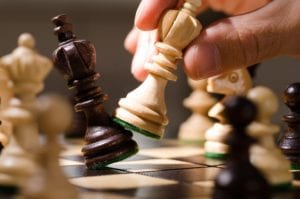 For the chess student, there is no better way to learn the game than by taking lessons. However, merely signing up for lessons is not all that you should do. Here's how to find chess lessons that will help better your game — and how to prepare for each of your lessons.
Find a Private Chess Instructor
Start by finding a chess expert who offers private chess lessons. While there are many videos and group lessons available, these are only slightly helpful to the individual chess player. Private lessons are where you're able to get one-on-one attention and personalized instruction.
When selecting a private chess instructor, you should look for someone who:
Has strong FIDE and USCF ratings
Studied under an International master (IM) or Grand master (GM)
Tailors lessons to individual students' knowledge and playing style
A single lesson with a professional player who has studied from the best will offer more insights than several group lessons where multiple players' questions must be answered.
Sign Up for Multiple Lessons
Once you find an instructor you like, sign up for multiple private lessons with them. In each lesson, you'll gain insights to implement in future games. To solidify your knowledge base, try out a few of the things you learn, and then revisit them with your instructor. Also it is a good idea to sign up for for the longest duration lesson you can handle. The more time spent learning will bring much quicker results. Once you see your rating climb higher, you will see putting in the time gets you to your goal in a much shorter time frame. Time spent learning equals better strategy and overall stronger game play. Always remember your teacher shares your happiness as you improve, because your both share the same goal, making you the best chess player you can be.
Review Your Own Games
Before your lesson, review your own chess games. Look for a handful of games that posed a problem you didn't understand. Don't focus on mistakes that you clearly see were bad. Instead, seek out games that had unfamiliar openings, difficult tactical issues, or unusual end-game scenarios. Have copies of these games on hand during your lesson.
Whether you and your instructor have time to review these games will depend on what you cover during your private lesson. If there's time to go over previous games, then your questions will help your instructor tailor their advice to specific situations that you are seeing in games. You can even replay these games with your instructor's advice to see how the end result changes.
Watch Your Instructor's Games
Many chess instructors stream at least some of their games. Spend some time watching their games — rather than playing your own. You'll be able to see their moves, and you'll also get to hear their thought process while playing.
Watching your instructor's games will help you better understand how they think. You'll also get a chance to see how they utilize the advice they provide in lessons during their own chess games.
If you're interested in private chess lessons, then schedule one-on-one lessons at the Chess Teacher.